Pocketbooks and Wallets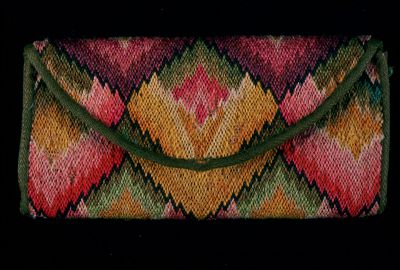 Over on Candice Hern's discussion board we were talking about wallets and pocketbooks
recently, and now I'm obsessed with making one. After a bit of research (don't thro
w me in the briar patch!) I went out and got all the supplies and started in.

To the right is an extant pocketbook from 1780 from the collection at Old Sturbridge Village.



I copied the pattern I'm using from an 18th century chair in the MET's collection (see image to the left), but I'm using a different color pallet, which I got from an 18th century pocket book in the Old Strubridge Village collection, but I can't get that site to open today. *grumble*
A bit of etemology for those who like that sort of thing: The OED gives 1845 for the "wallet" usage we're talking about:
3. A flat bag, usually of leather, closed by a flap fastened with a button or clasp, or secured by a band. Orig. U.S. a. A pocket-book for holding paper money without folding, or documents.
1845 N. P. WILLIS Dashes at Life II. 245 Our several borrowings were thrust into a wallet which was sometimes in his pocket, and sometimes in mine, as each took the turn to be paymaster.

Earlier usage seems to have been for a larger bag:

1. a. A bag for holding provisions, clothing, books, etc., esp. on a journey either on foot or on horseback; a pilgrim's scrip, a knapsack, a pedlar's pack, or the like. c1670 in 10th Rep. Hist. MSS. Comm. App. I. 39 A wallet to cari books. 1712 Spectator No. 289 9 Having looked about him for some time, he [a Dervise] enter'd into a long Gallery, where he laid down his Wallet, and spread his Carpet, in order to repose himself upon it. a1721 PRIOR Cupid turned Plowman 2 A rustic wallet o'er his shoulders ty'd. 1760-2 GOLDSM. Cit. W. lxii, With her scanty wardrobe packed up in a wallet, she set out on her journey on foot. 1791 A. WILSON Pack Poet. Wks. 1876 II. 30 My pond'rous Pack apo' the ground I carelessly had flung; A wallet green, wi straps fast bound. 1840 DICKENS Old C. Shop xii, The old man had forgotten a kind of wallet which contained the light burden he had to carry.
So what I'm making is a pocket book, and yes, both men and women carried these. Some of them are embroidered, but many of them are done in a type of needlepoint called
Bargello (or Florentine work). It involves a series of straight stitches that leap over multiple
squares of the canvas. It also involves the use of changing hues of the same color. It's period from the late 16th century on up.

To recreate the pattern I took the detail image of the chair and blew it up on my computer until I could count the stitches, then I worked it out on graph paper. I choose colors similar to those on another period pocketbook (pinks and blue-greys). To the right is a scan of my progress to date . . .

I can't wait to get the Bargello work done so I can start assembling the actual pocketbook! I'm sure I'll be carrying it at the RWA conference in July. So if you happen to be there and want to see it, just ask.