Losing New York: History Without Horse Sense
As Joni Mitchell sang in BIG YELLOW TAXI,
Don't it always seem to go
That you don't know what you've got
Till it's gone
They paved paradise
And put up a parking lot.

Hacks and Taxis. Hmmm … maybe they call it "history," because it's not there any more.

I am currently lamenting the demise of the only riding stable in Manhattan. The Claremont Academy was the only game in town (although there are stables in other boroughs of NYC that rent hacks) for years, although there was an intermittent blip on the horizon when the developers of the vast Chelsea Piers sports complex opened a ring, ringside on the banks of the Hudson. But no one went, perhaps because the fees to rent a horse just to ride in an oval for an hour were too exorbitant, and that location is currently where NYC's police horses are stabled.
So, after 115 years, The Claremont Academy, which is right on the block where I live, shut its doors, cynically telling its loyal fans and clientele that they did everything they could to avoid closing it. This is where I took my first riding lessons, learning enough skills to go out to Central Park and ride beneath the cherry blossoms. (Okay, technically we weren't supposed to do that because it was off the bridle path, but my sexy blond instructor was a marvelous rule-breaker. His credo seemed to be, "If it's a sensual experience, do it.")
Gee; they've since fenced off the cherry blossoms. Wonder why they did that! :)

I used to live about a mile and a quarter (that's the length of the Kentucky Derby, BTW) from Claremont, but also on a block that led right to Central Park, and what a delicious thrill it was for me as a historical fiction writer to hear the frequent clip-clop of the carriage horses pass right under my window as I worked. Every time I heard the hoofbeats, not only would I smile, but I would be transported to another place and time -- perhaps Georgian or Regency England, or perhaps a New York that used to be, and which is getting scarcer and scarcer as the developers take over, and reduce historical landmarks -- not only our research sources, but our local character -- to rubble. Or worse -- to condos.
Then, when I moved uptown to the same block as Claremont, I was delighted not to have to relinquish the sound of hoofbeats as well. After all, how rare is that in Manhattan!? So when the riding academy's owner announced the closure to the press less than a week before shutting its doors, I marched down the block to join the tearful protestors, fellow riders, and fellow history lovers. Rumors abounded that the owner had been offered as much as $11 million by a residential developer. Since he would neither confirm nor deny, people pretty much accepted the speculation as at least mostly true.

This is what the ring looked like when I used to ride in it:

And here is what it looks like today, as a developer makes way for a bunch of new pricy condo apartments. Oh, goody. Just what we need.
So I am in mourning for this occasionally odiferous slice of old, and now lost, 20th c. New York. Just as I mourn the loss of the old Madison Square Garden (the third one built, at 50th Street and Eighth Avenue, which we used to go to when I was a kid and my father took me to the Ringling Brothers Barnum & Bailey circus),
Madison Square Garden (incarnation III)
and the old Penn Station, which was wayyyyyyyy before my time, but which was evidently a temple to the notion of travel, an awe-inspiring edifice.
The old Penn Station, site of the current Madison Square Garden


I wrote a mystery (currently languishing in my filing cabinet) that was set in NYC in 1947, in the post-war era of the Stork Club and high hopes, and had to go to my parents' memories, and the NY Historical Society for my research. Sherman Billingsley's legendary Stork Club, where all the glitterati went to party, and where Walter Winchell derived much of his celebrity gossip, is long gone from 3 East 53rd Street, its glamour days relegated to memory. Now, there's a place I certainly would have loved to have "researched" firsthand!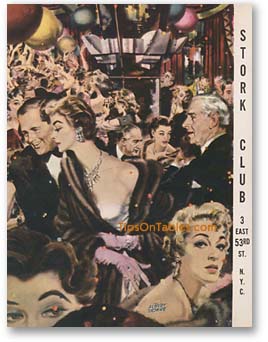 Are there any historical locations where you live that have bitten the dust? Were any of them sites you used for your research (for their facades, gardens, or atmosphere, for instance)?