Button, button, who's got the button?
Ok, so maybe buttons aren't the most interesting topic in the world, unless you're a costume
historian and you're making a reproduction item of apparel. As I mentioned in my last post, I'm going to be attending the 2008
Pyrate Con
in New Orleans next April. I'll also be giving a workshop on the clothing of the Golden Age of Piracy, and simple methods to make off-the-rack pirate attire more authentic, original, and fun. We're going to call it
The Devil is in the Details
.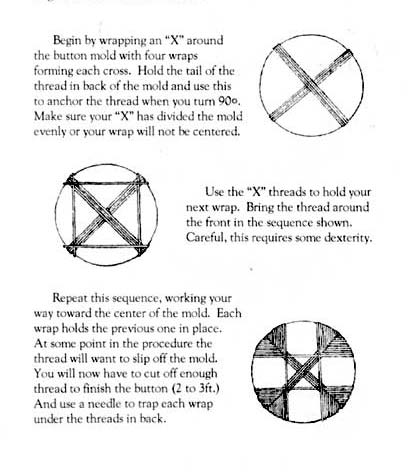 Since sometimes it's only the little things you can chance--and IMO the little things can make a HUGE difference--I've been giving the buttons for my coat and waistcoat a lot of thought. One of the cooler buttons I've seen used on extant garments from the time period is the thread-wrapped Death Head or Leek Button. There are sources out there to buy these from (at four-pounds each!). And the coat or waistcoat will take a least 45 buttons (roughly $800). Since I'm not a trustfund-brat or marrie
d to a Silicon Valley CEO, I'll be making these myself . . .
Luckily I came across
Norman Fuss's book
, which has really wonderful directions, as well as a concise history and pictures of many extant examples. The buttons are quite time consuming to make, but I think the effect will be worth it. It took a bit of doing to get the method down pat, and even with directions I had to invent my own step of waxing the wooden button mold before attempting to lay down the first wraps.
It took a few nights after work of solid toil, but very soon I had a large enough stash of these to complete my waistcoat. I'm still deciding about what to do for my coat buttons. I
finally
found just the right fabric (a soft pink cut velvet with a great Baroque pattern), and I'm thinking that I might totally lose my mind and make something with embroidery and spangles (aka sequins).
Clearly I've lost what was left of my mind, but what a wonderful way to go. As Captain Reynolds (the futuristic pirate captain from Joss Whedon's wonderful, and sadly short-lived, series
Firefly
) would say:
I aim to misbehave.