From the Ballroom to Hell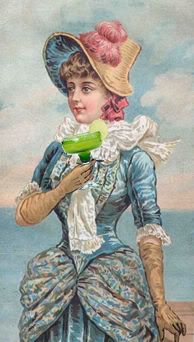 Hello, all you hoydens out there! It's a beautiful spring day here in the mountains where I live, and that translates into slim research pickings. I'm having trouble finding a blog topic out in my back yard. They didn't drink margaritas in Victorian England, did they?
Another reason my mind isn't on research. . . I've just finished writing my first contemporary romantic comedy. So aside from a few quick Google queries on lock-picking and S&M (don't ask), I haven't spent much time on picking up new knowledge.
When I realized it was my turn to post, I grabbed a book I hadn't spent much time with and started thumbing through it, looking for interesting tidbits. The book is titled
From the Ballroom to Hell: Grace and Folly in Nineteenth-Century Dance
. Pretty enticing, huh? It's a collection of advice from dance and etiquette manuals published during the nineteenth century. The vast majority of these were published for Americans, but there are some snippets from British books as well.
Americans were a uniquely hungry audience for this type of advice. There was no rigid hierarchy here in the new country, and people moved (slowly) up through the different strata of society. But once you moved up, how to be sure you understood the myriad rules of the polite world? Talk about stress! Add to that, there was no
ton
, no permanent group of fashionable people to set the standards. So where did they get them? From England, of course. And I daresay the upper-crust Americans followed these British "rules" more closely than the British did.
There were hundreds of etiquette books published for Americans in the nineteenth-century, and From the Ballroom to Hell brings many of them together for our reading pleasure. Here are a few of my favorite snippets:
"Whatever the fashions may be, never be induced by them to violate the strictest modesty. No woman can strip her arms to her shoulders and show her back and bosom without injuring her mind and losing some of her refinement; if such would consult their brothers, they would tell them how men regard it." –The Young Lady's Friend, 1836
*snicker*

"A man who would marry a woman who wore a dirty stocking, or one with a hole in it, would be very likely to beat her in a month, and run away from her before a year was over. It is the mark of a lady to be always well shod. . ." –The Art of Good Behaviour, 1845
Wow. I had no idea.
"As heels are of more importance to men than heads . . .When you are perfected in the art, you cannot do better than spend the rest of your time dancing. Fail not to convince a lady that your real existence is in the ballroom, and that during all the intervening time your godlike faculties are simply taking their natural sleep. You must not dance as a mere pastime and as a occasional amusement, but you must devote yourself to it as a business and a religion. . ." –The Arts of Beauty, 1858
I just love that men were supposed to be just as simple and depthless as women, at least out in society. No talk of your industrial empire, please. Dance, you fool!
Dance!
"[In waltzing]. . . When she raises her eyes, timidly at first, to that handsome but deceitful face, now so close to her own, the look that is in his eyes as they meet hers, seems to burn into her very soul. A strange, sweet thrill shakes her very being and leaves her weak and powerless. . . but the sensation is a pleasant one and grows to be the very essence of her life. . . She is now in the vile embrace of the Apollo of the evening. . . her partly nude swelling breast heaves tumultuously against his. . . She is filled with the rapture of sin in its intensity; her spirit is inflamed with passion and lust is gratified in thought. With a last low wail, the music ceases, and the dance for the night is ended, but not the evil work of the night." –From the Ballroom to Hell, 1892.
Well, I don't know about you ladies, but I feel like going waltzing, that's for damn sure.
Do any of you have any period etiquette manuals that just make your day?
I know it's been done before, but I'm sure I could base an entire romance on these rules. (And I apologize for the quicky nature of my last few posts. The next book is another historical, so I'll be deep in the research again by my next topic!!!)