Beauty and the Bard
I'm so delighted to be a history hoyden!
I'm Amanda Elyot and I write historical fiction. (this is a photo of me in the Pump Room in Bath, during the Jane Austen festival there, where I went last year to do a reading & signing). Three of the four novels I've had published are first-person accounts of the life story of a famous woman. The first was Helen of Troy, my most recent release, TOO GREAT A LADY, is Emma Hamilton's (Nelson's mistress) story, and the manuscript I just turned in to my publisher, ALL FOR LOVE, is the story of Mary Robinson, 18th-century actress, royal mistress, courtesan, novelist, poetess, and feminist. Not all of my novels are set in the same era, but what they share in common is the story of a feisty woman (and usually a redhead) who beat the odds, and for a time, not only survived, but thrived, in a society that was dead set against her succeeding.
Outsiders interest me. I think a story is more compelling when the have-nots overcome adversity than when the privileged get what's coming to them anyway. I love the rich and mighty -- don't get me wrong -- but I want to throw an outsider into their midst and watch their reactions. And when most of it really happened, historically, it's gold to me.
Emma Hamilton (b. 1765), the lady in the seductive pose pictured above (from a portrait of her by Elisabeth Vigee-leBrun) was one such woman whose life is an almost perfect parabola (I remember those from eighth grade geometry class because I liked to draw, but I sucked at math). She starts with nothing, and gradually ascends until, at her zenith, she is married to His Majesty's ambassador to the court of Naples, involved in a passionate affair with the biggest hero of the day, and is influential in international diplomacy. Pretty good for a woman who was more or less illiterate until she was seventeen years old! From there, though, as people grow increasingly disgusted by all the PDAs she and Nelson have been sharing, things start descending fairly rapidly for Emma, until by the end of her life, at age 49, she had less than what she began with.
Mary Robinson, on the other hand (b. 1757), was a merchant's daughter and had a more or less middle class education, rare for girls of the era. Whereas Emma was street-smart, Mary was book-smart, a bluestocking; but being a brainiac didn't help much when it came to falling in love. Smart women, foolish choices. Speaking for myself, I've been there, too. Maybe that's one reason why I felt for Mary so much.
Mary Robinson
Recently I've become fascinated by the "what if" factor in historical fiction. What If -- two famous people who lived during the same era, crossed paths? What did they do when they met and how did they affect each other later in life? I'm not referring to fantasy fiction where, e.g. Attila the Hun and Jane Austen share a beer at Agincourt -- I'm talking about something that might actually have happened.
Here's an example. In doing research for a book proposal, I discovered that William Shakespeare and the famous Venetian courtesan Veronica Franco were "lost" at the same time during the 1580s, meaning that history can't account for their whereabouts for some of that time.
So maybe they met
... I got to thinking. How else would Shakespeare have learned enough about Venice to write OTHELLO and THE MERCHANT OF VENICE. We know he was a plot thief.
Veronica Franco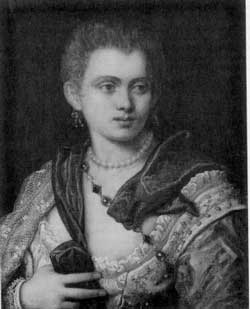 So, what do readers, and other historical writers, think about the "what if"? Would it bother you to see, e.g., Franco and Shakespeare in a novel together, as long as it's something that might have actually occurred? When it comes to the genre of historical fiction, in the balance, do you prefer your history to be strictly by the book, or are you okay with putting a bit more weight in the fiction side of the scale?
P.S. I made a few mental notes on last night's BBC-America Beau Brummel production with James Purefoy. For some reason, fascinated as I was by the first scene of BB publicly dressing, it didn't seem accurate that a man who was famous for his sartorial fastidiousness would not wear anything (no linen of any kind) under his trousers. After all, there were no drycleaners then!
What I am relatively sure of is that the waltzes depicted were incorrect. The actors were doing the choreography of the classic Viennese waltz, which was introduced considerably later. They should have been dancing the early form of the waltz (which was just as scandalous, and which would have been period-accurate), where the dancers would have been hip to hip, rather than face to face, and their right hands would have been interlocking (holding hands) overhead, while their left arms encircled each other's waists. I performed this older version of the waltz in a play I did about a decade ago, and that's why the two waltz forms stick in my mind.
Other than that, I found the show quite entertaining. I enjoyed the exterior shots of what appeared to be Bath, but was amused that there never seemed to be anyone on the street who wasn't in the scene; I guess background extras weren't in the production budget!